MINIGAMES
Minigames are small challenges you can do in Terror or Destruction difficulty. The reward for all of these is the same: the maximum amount of points you can put into your skills is raised by 1 for each completed minigame. This bonus is applied to the Class Charm you picked up in Kurast 3000 BA.
You need your Class Charm
This challenge requires you to have your Class Charm. This is a charm that drops in the Kurast 3000 BA uberlevel. If you did the Ennead Challenge, you already have one.
If not, see THIS PAGE for more information about Kurast 3000 BA.
---
MINIGAME 1: WITCH QUEEN
Simply slay the Countess or any of her minions on Terror difficulty to receive a red swirly overlay. Quickly cube your Class Charm with an Eth rune while the overlay is visible to receive a bonus. You have 30 seconds. Easy you say? Be afraid... the inhabitants of the deepest Tower level are a bit unusual.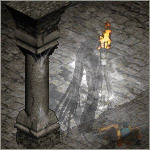 [Class Charm] + Eth Rune → returns [Class Charm] with added bonuses
This upgrade recipe adds the following bonus:
Maximum Skill Level Increased by 1
Witches will instantly kill your character if you get too close to them. Consider using summons to lure them away.
---
MINIGAME 2: MIRROR MIRROR
Do the Baal fight on Terror or Destruction difficulty and instead of killing Baal, kill his Shardspawn minions. Each kill brings a 1% chance to gain a red swirly overlay, so you may have to let him summon a few. Cube your Class Charm with a Lem rune while the swirls are active to receive a bonus. You have 30 seconds before the swirls vanish.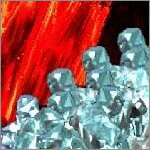 [Class Charm] + Lem Rune → returns [Class Charm] with added bonuses
This upgrade recipe adds the following bonus:
Maximum Skill Level Increased by 1
---