Kabraxis
DIFFICULTY: EXTREMELY HARD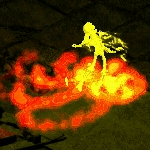 Level
Hatred : 85
Terror : 115
Destruction : 120
Location
Disused Reliquary (Act 3: Kurast Causeway)
Lore
The Thief of Hope and the Banisher of Light is a demon lord summoned by a very powerful Vizjerei magi, long ago. He used his intelligence and power to form his cult and rule the lands. People followed his philosophy, 'walked' the Black Road he created, and soon his power grew so much, that even the Prime Evils feared him, so they imprisoned him within the portal he came from, between the Sanctuary and the Burning Hells. It is whispered among his remaining followers that there is a way to release him from his centuries-long prison...
Strategy
The Pillar of Skulls seals Kabraxis. Once you kill it, Kabraxis will be released. He will pounce on you with various attacks, cast bone prison on you to trap you, summon his skeleton army of followers and cast broadside or teleport when hit. Your best hope is to keep running and killing the bone prison and skeletons as fast as you can, and not stand close to Kabraxis all the time.
Reward
Defeat Kabraxis, Thief of Hope on Destruction difficulty to get the Soul of Kabraxis.
Soul of Kabraxis
Keep in Inventory to Gain Bonus
Required Level: 100
50% Chance to cast level 49 Trinity Nova when you Die
+1 to All Skills
2% chance to drop a trophy on Destruction difficulty. Cube the trophy with the charm for a small bonus.
Elemental seals
If you're feeling like releasing more powerful beings, there are also 5 orb seals which used to seal Kabraxis once. Each seal is for one element: Fire, Cold, Lightning, Magic and Physical. When one is destroyed, it will unseal an Ultra Elemental, along with some normal elementals. The Ultra Elemental spawns new elementals, fires a powerful spell and takes damage only from it's own element - so be prepared to have a source of damage for every one of the elements. Once defeated, each Ultra Elemental will drop a Great Gem. Transmute all 5 Gems with the Kabraxis' Soul to get additional bonuses.
Soul of Kabraxis + 5x Great Gems → Soul of Kabraxis with added bonuses
This upgrade recipe adds the following bonuses:
+(0 to 5)% to Maximum Fire Resist
+(0 to 5)% to Maximum Cold Resist
+(0 to 5)% to Maximum Lightning Resist
+(0 to 5)% to Maximum Poison Resist
+20 Required Level